International Conference on Applied Financial Economics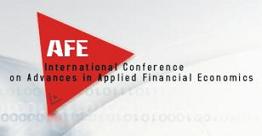 Time: 2-4 July 2009
Venue: INEAG Conference Venue, Samos, Greece
The 6th International Conference on Applied Financial Economics has run annually for the past five years, and continuing the tradition will seek to address the many challenges and new directions on the field of Financial Economics. Providing keynote speakers, plenary sessions, workshops and forums, the Conference aims at promoting research and provides an opportunity for intensive interdisciplinary interaction and debate between academics and practitioners with research interests in the field of finance, accounting and business management. The conference has grown over the years and now attracts researchers of major institutions internationally as well as from within Greece.
Academicians and researchers are invited to share their unpublished research findings in all areas mentioned below:
Accounting
Banking control and supervision
Finance, management
Financial economics
Possible topics for submission include, but are not limited to:
Asset Pricing
Market Microstructure - Market Efficiency
Investment Management
Corporate Finance
Banking and Insurance
Financial Derivatives and Hedge Funds
Risk Management
Commodities Markets
International Finance
Financial Reporting and Corporate Governance
Venture Capital and Private Equity
General Management
Financial Markets and Institutions
Portfolio theory
Investment and financing problems
Emerging markets
Macro-economics and finance
Econometric issues, mathematical finance, statistics
International Accounting Standards
Internet banking
E-commerce, entrepreneurship
Any paper on the theory or applications of options, derivatives and real options is welcome.
Contact:
Valadis Prachalias
Research and Training Institute of the East Aegean (INEAG)
Kambos Vourlioton, 83100, Samos, Greece
Tel: + 30 6976021240
Fax: + 30 2273094537
Email: [email protected]

For more info http://www.ineag.gr/...