Global Payments Strategies Conference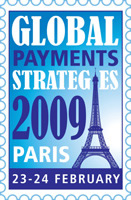 Time: 23-24 February 2009
Venue: Paris Marriott Rive Gauche Hotel & Conference Center Paris, France
The Global Payments Strategies conference offers:
Payments decision-makers a unique
Value-rich opportunity to dialogue with experts, network with peers
Engage in examination of significant developments and current thinking in the global payments
Featuring keynote speaker
:
Harold Young
Managing Director
Global Head of Payments Products
Deutsche Bank

Global Payments Strategies 2009 is "Going Green":
Global Payments Strategies 2009 will feature new environmental meeting practices that will provide benefits for the delegates, the hosting organizations, and the community. Paper session handouts will not be distributed during the conference. Session handouts will be available to delegates electronically before the conference. Electronic distribution details will be posted to the conference website, and delegates will be notified via email of the particulars for retrieving session handouts in the near future.
For more info http://www.nacha.org/...
Tel: +1 703 561 1100
Email: info@nacha.org